Todos los conciertos y videos divididos en varias partes, se unen mediante
hjsplit
Este es el e-mail del blog por si necesitais o quereis decirnos algo.Las peticiones, POR FAVOR, hacedlas por el blog como hasta ahora.Los afiliados mandadlos al mail. (si alguien pidio afiliacion y no esta añadido, por favor, mandadlo al e-mail porque se nos habra olvidado)
Gracias
Si quieres Afiliacion, por favor escribe al Mail!!!
visualyumerin@gmail.com
----------
All the concerts and videos split into several parts, join by
hjsplit
This is the e-mail of the blog for if you need or want to say something to us.
The requests, PLEASE, do them for the blog as till now.
The affiliates order them to the e-mail. (if someone asked for affiliation and it is not added, please, order it to the e-mail because we forget it)
Thank you

viernes, 27 de febrero de 2009
Sectma ~ Miss Crazy Diamond
Este es el ultimo single de Sectma. Disfrutadlo.
2009/02/18 Miss Crazy Diamond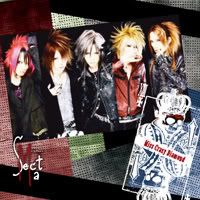 Descarga
.
Publicado por

Yume
en viernes, febrero 27, 2009